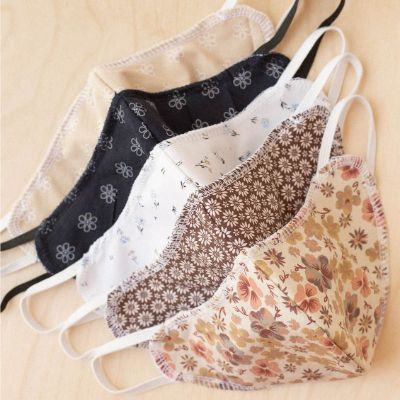 100% doubled deadstock cotton, and feature behind-the-ear elastic. They are reusable and washable. Each order is for 10 total masks (Five will be shipped to you! Five will be donated to those in need!).

Christy Dawn says...
Mother Earth is a powerful teacher. We look to her for guidance, celebrating her beauty and resilience throughout our entire process. From the start, we've aimed to tread lightly, to produce sustainably, and to Honor Mother Earth with every decision we make. We use both leftover fabric (called "deadstock") and new, organic cotton to create each of our designs. We have production centers in Los Angeles and India, where we are working toward creating a fully regenerative fibershed. Our talented team puts care and intention into each seam they sew. Speed is the last thing on their minds; we ask them to take a deep breath, slow down and create something they are proud of.
Find out how to stay safe, make or buy your own masks and how to wear them in our latest guide.
This is a "best effort" guide and should not be construed as medical information. See your doctor or a medical professional for medical information. We don't make money from any of the links on this page and are providing them as a courtesy. We don't make any warranties or representations for any of the links or information herein. If there is anything incorrect please use our contact information provided above and we'll do our best to correct as soon as possible.
♡♡♡ your friends at A Little Drive © 2020