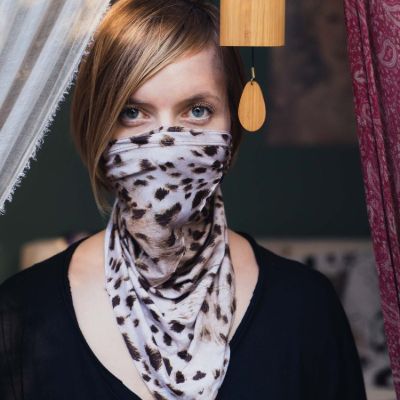 Double lined, with slip pocket allows for insertion of a DIY filter if you wish. (Filter not included). Versatile design allows for crown wrap, meditation / sleep black out eye mask.
One Golden Thread says...
For every Face Wrap purchased, we will match donate one to those exposed and lacking privilege to shelter in a safe space - Inner City Souls. Oversized design allows for broad face and neck coverage, and natural stretchy "second skin" fabric allows for a tight comfort face seal.
Find out how to stay safe, make or buy your own masks and how to wear them in our latest guide.
This is a "best effort" guide and should not be construed as medical information. See your doctor or a medical professional for medical information. We don't make money from any of the links on this page and are providing them as a courtesy. We don't make any warranties or representations for any of the links or information herein. If there is anything incorrect please use our contact information provided above and we'll do our best to correct as soon as possible.
♡♡♡ your friends at A Little Drive © 2020