Peach Face Masks
by Peach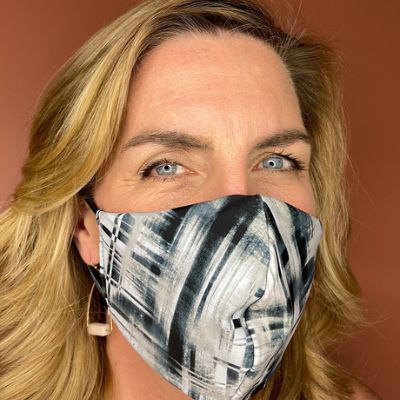 Legging maker, Peach uses three layers of fabric to make their reusable personal face masks.

Peach says...
In light of the CDC's current recommendation to wear a cloth face covering in public settings, we've teamed up with our US factory to up-cycle our remaining, unused Reversible Legging fabric into reusable, personal-use face masks. Each mask is made with three layers of fabric: Either two layers of our Reversible Legging fabric with a layer of power mesh in between or one layer each of Reversible Legging Fabric, power mesh, and our Barre Fabric. We found these two combinations provided the highest level of protection while still allowing you to breathe comfortably. Our legging fabric is moisture-wicking and fast-drying, helping to keep your face dry as you breath. It is cool to the touch, adding extra comfort. Masks can be worn with either outer layer against your face, allowing you to choose between the printed pattern and a solid color. See product images for color and print pairings. Ear loops are made with fabric instead of elastic, making them softer and more comfortable while still providing the stretch required to be one size fits most.
Find out how to stay safe, make or buy your own masks and how to wear them in our latest guide.
This is a "best effort" guide and should not be construed as medical information. See your doctor or a medical professional for medical information. We don't make money from any of the links on this page and are providing them as a courtesy. We don't make any warranties or representations for any of the links or information herein. If there is anything incorrect please use our contact information provided above and we'll do our best to correct as soon as possible.
♡♡♡ your friends at A Little Drive © 2020