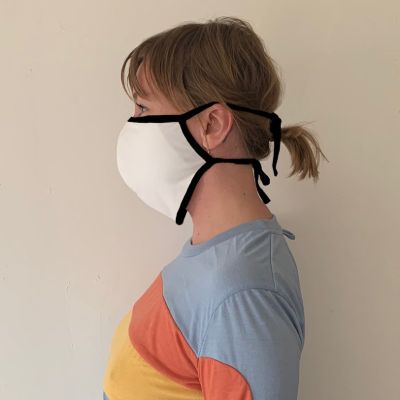 Adult sized masks. measures 11" wide and 7" tall. Each strap is 11" long. Hand wash warm, lay flat or hang to dry. Made of 100% Organic cotton. Straps: 60% cotton / 40% polyester jersey. Manufactured in the USA.

Camp says...
We're doing our part by offering masks made here in San Francisco. Each mask has a pouch for inserting microfiber cloth or other material for additional filtration. It is contoured to relieve pressure on your nose and has ties to prevent chafing and pressure behind your ears. The mask provides full coverage for an adult face from just below your eyes to your neck. These masks are not medical-grade, and we recommend washing thoroughly before wearing and after each use. Wash your hands before applying your mask and avoid touching it while wearing. To remove, untie the ties without touching the mask until it has been washed.
Find out how to stay safe, make or buy your own masks and how to wear them in our latest guide.
This is a "best effort" guide and should not be construed as medical information. See your doctor or a medical professional for medical information. We don't make money from any of the links on this page and are providing them as a courtesy. We don't make any warranties or representations for any of the links or information herein. If there is anything incorrect please use our contact information provided above and we'll do our best to correct as soon as possible.
♡♡♡ your friends at A Little Drive © 2020