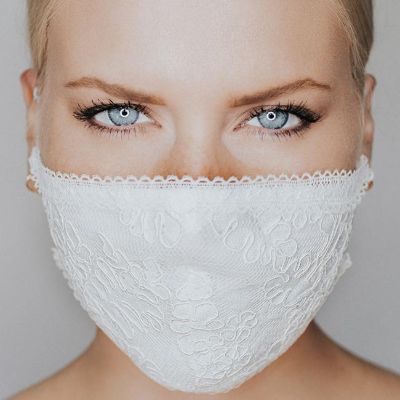 Washable/Sustainable, Adjustable straps, Anti-dust, One size fits most. Only available in Ivory

Katie May says...
Fitted lace multi-layer face mask featuring a corded lace, sparkle tulle underlay and delicate lace trim. Two adjustable straps ensure comfort and security while wearing. With each purchase, we are proudly donating 3 utility masks to Police Officers in Orange County. Handmade in Los Angeles.
Find out how to stay safe, make or buy your own masks and how to wear them in our latest guide.
This is a "best effort" guide and should not be construed as medical information. See your doctor or a medical professional for medical information. We don't make money from any of the links on this page and are providing them as a courtesy. We don't make any warranties or representations for any of the links or information herein. If there is anything incorrect please use our contact information provided above and we'll do our best to correct as soon as possible.
♡♡♡ your friends at A Little Drive © 2020