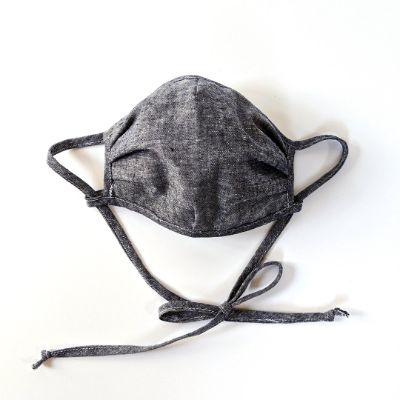 1 outer layer of 55% hemp, 45% organic cotton, 2 inner layers of tightly woven organic cotton poplin, Indigo outer with natural lining, Nose clip along upper edge of mask help contour your face (pinch to fit), Fabric ties loop over the ears and fasten at the back neck, Elastic free to reduce irritation for you and our planet, too. Machine wash warm, line dry in the sun or tumble dry, Made in USA of imported fabric

Amy Kuschel says...
Let's Face It is a reusable, sustainable mask thoughtfully crafted using 3 layers of natural fabric selected for their filtering ability and breathability. We love a good fit, and Let's Face It is no exception. Our mask is shaped to cover your face with room to breathe and a wired edge to contour your nose, minimizing the flow of air out of your mask, and helping prevent the spread of germs. Fabric ties loop over your ears and fasten at the base of your neck for comfort and ease of use. Our Indigo Hemp Denim mask is the ultimate in eco chic with an outer layer of hemp and organic cotton, and an inner double lining of natural, finely woven organic cotton poplin. Let's Face It, this mask is good for you and mother nature, too. When you buy and wear our beautifully crafted masks, you show your care for others and the environment. You also support our small business and our local, made in San Francisco factories. Thank you, we couldn't do this without you!
Find out how to stay safe, make or buy your own masks and how to wear them in our latest guide.
This is a "best effort" guide and should not be construed as medical information. See your doctor or a medical professional for medical information. We don't make money from any of the links on this page and are providing them as a courtesy. We don't make any warranties or representations for any of the links or information herein. If there is anything incorrect please use our contact information provided above and we'll do our best to correct as soon as possible.
♡♡♡ your friends at A Little Drive © 2020