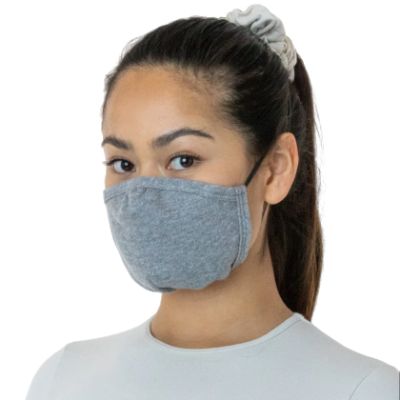 A 3-pack of cotton masks with an adjustable nose you can form to your face. A percentage of sales goes towards donating masks to those in need.

Los Angeles Apparel says...
3-Pack face mask is made of 100% cotton and features an adjustable nose that you can form to the contours of your face. 2 straps to be worn around the head and neck that can be tied and tightened to preferred fit. Mask is made of a thick French Terry fabric constructed of 3 yarns, weighing no less than 12 ounces per sq yard (400 GSM). Fabric is laundered prior to construction.
Find out how to stay safe, make or buy your own masks and how to wear them in our latest guide.
This is a "best effort" guide and should not be construed as medical information. See your doctor or a medical professional for medical information. We don't make money from any of the links on this page and are providing them as a courtesy. We don't make any warranties or representations for any of the links or information herein. If there is anything incorrect please use our contact information provided above and we'll do our best to correct as soon as possible.
♡♡♡ your friends at A Little Drive © 2020