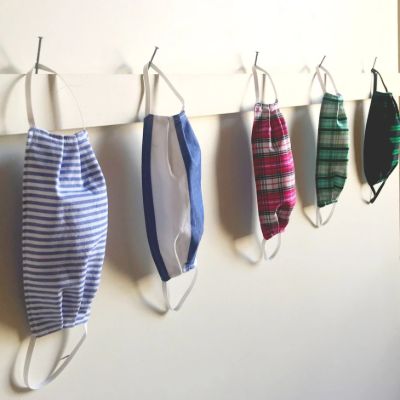 Produced on-demand in the USA of imported fabric. Shipping within the USA only.

Nineteenth Amendment says...
Buy a 100% Cotton fabric mask, give 1 fabric mask to care centers in need. Pick the fabric mask style (small elastic, large elastic, one-size tie) you'd like and we will send you your own personal mask as well as making an additional mask for centers in need. PLEASE NOTE: In order to donate the most to donation mask creation, we use last run fabrics. At this time we cannot guarantee a mask fabric pattern. All masks are made in the USA and all proceeds are used to fund the production of these masks. You have the choice between: A large or small mask (men generally use large and women use small), Elastic or cord ties for ears
Find out how to stay safe, make or buy your own masks and how to wear them in our latest guide.
This is a "best effort" guide and should not be construed as medical information. See your doctor or a medical professional for medical information. We don't make money from any of the links on this page and are providing them as a courtesy. We don't make any warranties or representations for any of the links or information herein. If there is anything incorrect please use our contact information provided above and we'll do our best to correct as soon as possible.
♡♡♡ your friends at A Little Drive © 2020