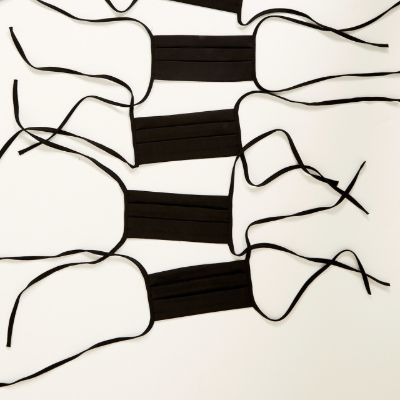 This is a lightweight drapey crepe fabric with a dry hand feel - 53% viscose, 47% rayon. Viscose--aka rayon--is man-made cellulosic fiber made from wood pulp. We're committed to ensuring all our forest-based products come from sustainably managed forests. That's why we work with the non-profit group Canopy to help drive positive change for all our forest products.

Reformation says...
These are non-medical, reusable masks with ties. Fabrics may vary: Tencel, Cotton Blends Machine wash warm, only Non-Chlorine bleach when needed Material and color may vary Non-medical grade Not intended for clinical use Polyester thread Reusable Tie straps
Find out how to stay safe, make or buy your own masks and how to wear them in our latest guide.
This is a "best effort" guide and should not be construed as medical information. See your doctor or a medical professional for medical information. We don't make money from any of the links on this page and are providing them as a courtesy. We don't make any warranties or representations for any of the links or information herein. If there is anything incorrect please use our contact information provided above and we'll do our best to correct as soon as possible.
♡♡♡ your friends at A Little Drive © 2020